The Perth Gem and Mineral Show is a new opportunity to promote and sell goods and services relating to mineralogy, gemmology, jewellery and geoscience in Western Australia.
Whether you are just starting out or have a growing business, we encourage you to apply as a vendor today!

$25 per table
We typically advise booking a minimum of two tables (1.8 linear meter).
Join the community of over 50 vendors and counting.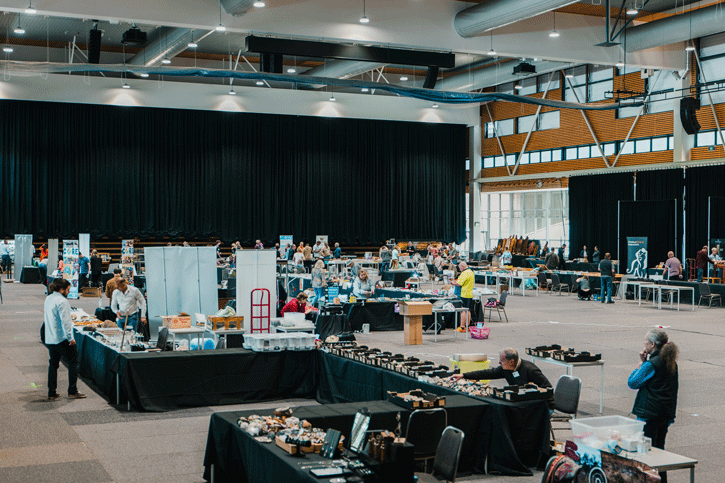 Thinking of becoming a vendor ? Here is more about the place. 
Curtin Stadium is in a prime position on the campus of WA's largest University, hosting over 57,000 students and leading academics. Located 10 km from Perth CBD with public transport to the door, the venue has parking space in the proximity of the stadium.
The indoor carpeted arena hosts up to 2450 people at once with a further 1000 people in the adjoining outdoor undercroft and is fully wheelchair accessible. The Stadium also has a separate presentation space, audiovisual displays, café, and bathroom facilities and is flanked by immaculately maintained, open grassed areas.
Multiple double-door entry points, ramps, and drive-through capabilities to the undercroft demonstrates that this facility will provide vendors and exhibitors easy access to the indoor exhibition space. Moreover, the undercroft staging is also available for displays of significant size and weight.
Professional security is evidently provided overnight, thus allowing displays to remain intact throughout the show. 
The PGMS committee is without a doubt excited to bring like-minded communities and individuals together for this annual event, with Curtin Stadium providing plenty of room to host.
The PGMS has some guidelines that all sellers must adhere to:
Correct mineralogical labelling required (detailed labelling of localities encouraged!)
No incorrect or misleading names
Sales of historic or indigenous artifacts are strictly prohibited
Artificial/synthetic or dyed minerals are definitely not to be sold as natural specimens and must be labelled as such by all mean.
Disclosure of repairs to specimens is equally important
You will receive email confirmation once your application has been accepted
Our focus is on interactive and engaging exhibitions that align with the core values of the event, such as:
Educators and Science communicators (obviously)
Relevant societies and clubs (likewise)
Companies with a generally strong record of preserving mineral heritage
Independent bodies who actively contribute or have contributed to mineral heritage
Service providers for the field of mineralogy/gemology
You will receive an email confirmation provided that your application has been accepted
Get inspired by our vendors
Check out the pictures of recurrent sellers and general public from the last edition