Perth Gem and Mineral Show
After great success of the 2022 second edition, we are back on the 27-29th October 2023 for another fantastic event!
It is with great pleasure that we are offering you the opportunity to be involved in the third ever Perth Gem and Mineral Show (PGMS), hosted by the Mineralogical Society of Western Australia (MinSocWA).
Vendors and exhibitors offer selected assortment of locally and internationally sourced crystals, gemstones and rough lapidary material. This edition's theme will be granite-related minerals.
The mineral world has so much to offer. Come and enjoy a casual chat with like-minded hobbyists or conference speakers, always willing to share their knowledge about the secrets of the Earth.
Attend alone, with friends, or bring the whole family!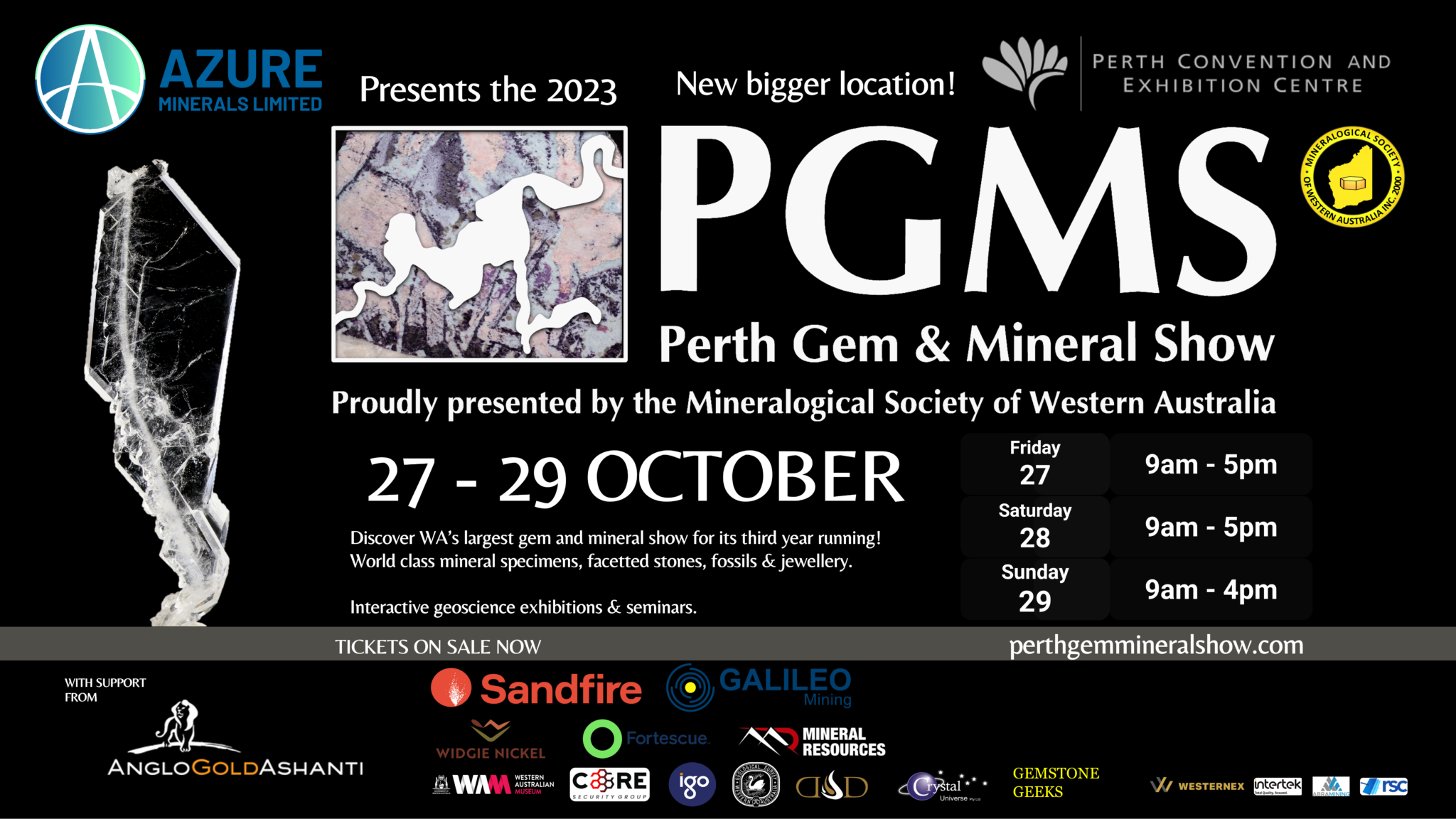 The Perth Gem & Mineral Show (PGMS) was held at Curtin Stadium for the second year in a row. Gold was the main theme of this edition, with numerous kilograms of gold nuggets on display. the yellow metal was everywhere, from native specimens in quartz matrix, to polished cabochons, or locked in sulfide-rich ore.  The rich Western Australia's golden mineral heritage was shared with a 6000+ walking public, during this busy two and a half days weekend.
The inaugural Perth Gem & Mineral Show (PGMS) was held at Curtin Stadium on 17–19 September 2021. It showcased many of the wonders that the mineral, gem and geoscience communities have to offer, with a special focus on Western Australia's mineral heritage.
Attracting a large contingent of mineral collectors, geologists, jewellers, mining professionals, students, hobbyists and commercial dealers, the event enabled businesses specifically from the mineralogical, geological and geoscience sectors to share their collections and knowledge, and offered vendors and exhibitors a unique exposure across a broad spectrum of industry professionals and the general public.
Hosted at Curtin Stadium, over 3000 visitors crossed our doors during the weekend. No mineralogical event of such a scale had previously been hosted on the West Coast of Australia for well-over three decades! With this second edition, it has become a yearly event which will undeniably continue.
Join 6000 happy visitors who have already enjoyed the experience
Hi, I just had to write and let you know what an absolutely fabulous event you put on. My daughters are both fascinated by rocks and crystals . My eldest often coming home from bush walks with a collection of them in her backpack. We were so excited to come along, and I have to say how completely and utterly blown away I was at every stall holder's willingness to engage with my daughters in a meaningful and positive way. Their questions were answered with patience and grace. They were never dismissed with an off hand comment and as their confidence grew to comment on particular items they were able to engage in intelligent, interesting conversations . I've not experienced that level acceptance of children at an event like this before and it is a huge credit to you and all the stall holders. We ended up coming for 2 visits as the girls had such a great time. Please pass on my thanks to the stall holders."
My 9 year old daughter had a fantastic time...spending 4 hours in awe of everything she laid eyes on. I hope we can return next time 🙏."
It was as busy as at the Munich Show!
Definitely coming back next year!
Get your $5 tickets for this year's show!
Free entry for children under 16!
9 am - 5 pm Friday 27 October 2023

9 AM - 5 PM Saturday 28 October 2023

9 AM - 4 PM Sunday 29 October 2023

Convention Center, Perth CBD