Become a sponsor for our 2023 event!
There are numerous opportunities available, as the Perth Gem and Mineral Show has a lot to offer.
Ask our prospectus to read more about the benefits of becoming a sponsor.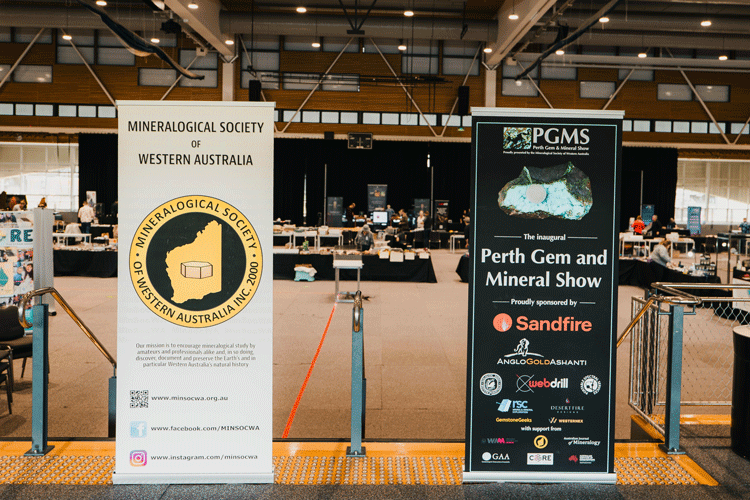 2023 Gold Sponsor
Azure has embarked on an accelerated growth strategy to rapidly advance the Company's multi-commodity, battery metals-rich Andover Project. The major focus is on building lithium resources through an intensive multi-rig drilling campaign and commencing development studies. Progressing the nearby nickel-copper-cobalt sulphide deposits is continuing through ongoing exploration and development studies.
Why sponsor us ?
The Perth Gem and Mineral Show strives to
be the premier mineralogical and geoscience
event in Australia. We successfully presented
PGMS for the past two years as the largest show of its kind held in WA in decades, featuring gem and mineral dealers, geoscience communicators, and industry professionals. Participating in the PGMS provides an opportunity to promote and sell products and services while demonstrating a commitment to the broader development of the mineralogical, geological, and geoscience sectors.
Here is what we offer to our sponsors:
Commercial Opportunity and Brand Exposure
The PGMS will provide direct access to a broad range of consumers: from students and hobbyists to high-end mineral collectors, jewelers, geoscience professionals, and commercial dealers. This is an excellent commercial opportunity to generate awareness for your brand amongst a larger and more diverse audience than typically seen at industry or club events.
Profile Building
This event will showcase how you and your business contribute to the mineralogical, geological, and geoscience sectors. It is an opportunity to demonstrate your commitment to Australia's mineral heritage. Your involvement in the event also directly supports the Mineralogical Society of Western Australia, the only not-for-profit community organization promoting the study of scientific mineralogy in the State. Our mission is to "encourage mineralogical study by amateur and professional alike and, in so doing, discover, document and preserve the Earth's and in particular Western Australia's natural history."
Networking
The event will attract delegates from all facets
of the mineral, gem, and geoscience communities and provides a unique opportunity to share ideas and expand your business network.
Aside from the event itself, there will also be the opportunity to network at the exclusive Sundowner evening (separately ticketed). Featuring a charity auction, nibbles, drinks, and lots of rock talk! An expression of interest for donation to the charity auction can be found at the end of the prospectus.